We are backed by a team of adept specialists in manufacturing and supplying a qualitative assortment of Curb Cutting Machine to our valued patrons. Our offered cutting machine is designed with top grade RCC blades and other allied material under the direction of experts. This cutting machine is designed to perform in tough Indian conditions especially. The offered cutting machine is available in numerous customized options at an affordable price to our renowned clients.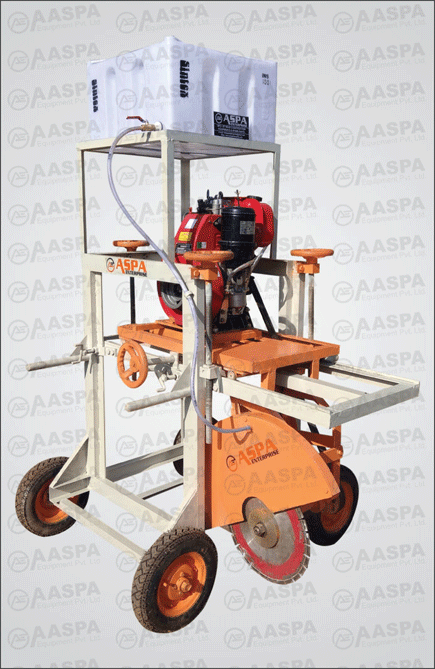 It is used for cutting concrete curb in highway projects. The blades installed in these machines can operate up and down up to max possible mm by three hand wheels so that it is easily operated by one person. A standard Diesel Engine is for reliability, low maintenance, low fuel cost, and high efficiency. For increasing the life of the blade, the water tank is mounted on the machine for smooth cutting.
We can manufacture and supply quality-tested Curb Cutting Machine as per customer specifications.
AASPA Equipment is the best manufacturer, supplier and exporter of Concrete Mixer, Curb Cutting Machine, Mobile Concrete Mixing Plant, Reversible Concrete Mixer, Compact Concrete Batching Plant, Mobile Concrete Batching Plant, Concrete Screed Paver, Stationary Concrete Batching Plant in verious country like MAURITIUS, MICRONESIA, GREECE, TUNISA, U.K, U.S, SAUDI ARBIA, SOUTH AFRICA, CANADA, ECUADOR, OMAN, QATAR, MOROCCO, FRANCA, SPAIN, BOLIVIA, DENMARK, FINLAND, NORVE, IRELAND, MICRONESIA, etc.