We offer our valued patrons a supreme quality grade of Mobile Concrete Mixing Plant. Mobile Concrete Plant does functions like collecting, electrical weighing, lifting and mixing. This mixing plant is fabricated by making use of high-grade raw material which is sourced from authentic vendors. Moreover, these offered products are developed in compliance with the set national and international standards, which further ensure the quality of our product. Mobility gives flexibility in use while delivering and good returns on investment.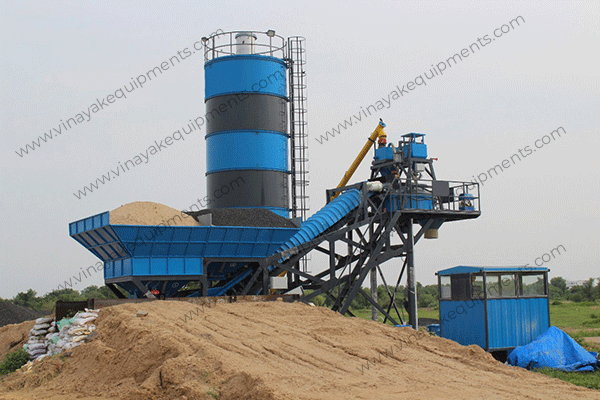 The mobile concrete mixing plant is a portable, productive, reliable, and cost-effective piece of equipment used to produce batches of concrete at most of the locations. Because it is portable, users can easily transport the equipment to a new location and begin to produce concrete batches at their own pace. Mobile mixing plants can be used to wet or dry the process. Safety control feature fitted in it ensures level of hydraulic raising and lowering of the plant. It is therefore suitable for short-term projects or any other projects requiring on-site mixing.
It has a variety of plant accessories too which mixes the concrete very well. Likewise, the plant has a twin shaft mixer that can ensure an even mixture of concrete and large output, while the tilt mixer offers a consistent mix with less maintenance and cost. This plant is rigorously tested by our quality auditors on several quality parameters to ensure a glitch-free range. We can manufacture and supply quality-tested Mobile Concrete Mixing Plant as per customer specifications.
Our company one of the best manufacture, supplier and exporter of KERB Paver AKM, Hydraulic Bucket Broomer, Dewa tering System, Concrete Screed Paver, Concrete Mixer, Compact Concrete Batching Plant, Concrete batching plant, Mobile Batching plants, Stationary Concrete Batching Plant in verious country like MOROCCO, GREECE, TUNISA, U.K, U.S, SAUDI ARBIA, SOUTH AFRICA, CANADA, MAURITIUS, ECUADOR,  OMAN, QATAR, FRANCA,  SPAIN, BOLIVIA, DENMARK,  FINLAND, NORVE,  IRELAND, MICRONESIA.